Breakfast and Lunch
Here at Palenque Coffee House, breakfast and lunch are served all day! Choose from our delicious menu of made-to-order dishes for just about any taste or appetite.
Breakfast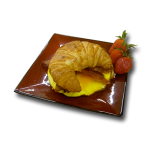 Our Day keeper comes on your choice of croissant, bagel or English muffin with either cheddar, mozzarella or provolone cheese and either sausage, ham or bacon….or all of the above!
Oatmeal: And not just ANY Oatmeal! We use only whole thick rolled umpqua oats for an old fashioned taste.
Paninis and Sandwiches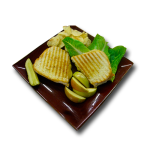 All of our sandwiches are served with a dill pickle, chips, and apples slices.
The Cortez: Our idea of a bacon, lettuce and tomato sandwich served on toasted panini bread. Mayo on the side.
The Architect: Stuffed with ham, turkey, pepperoni, mozzarella, and roasted red pepper sauce and served panini style.
Triple Totem: A 3-cheese panini style sandwich oozing with mozzarella, provolone and cheddar cheese; topped with cracked black pepper and a hint of basil.
El Chichon: A panini style sandwich with sliced ham & cheddar cheese.
Yucatan: Clubhouse style sandwich with turkey, cheese, bacon, lettuce and tomato. Mayo on the side
Hummus & Veggie:  Our homemade hummus with a medially of roasted veggies on our one of a kind bread.  Its a treat for any health food lover.
Soups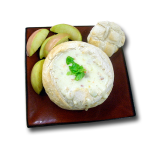 We have a variety of hot soups available in either a sourdough bread bowl or a smaller size cup. Please ask about our soup selections of the day.
Desserts
Some of our dessert choices include nuts, so please ask if you have any concerns.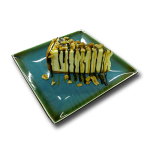 Our creamy cheesecake selections include, Morning Star (plain) or Maya Moon (turtle). We also have seasonal selections when ingredients are available. Be sure to ask!
The High Priest is our very popular Italian dessert. This is a layered Tiramisu consisting of mascarpone cheese, eggs and sugar.
Rite of Passage is our carrot cake (which is better than mom's but don't tell her!) A generous slice filled with shredded carrots, nuts and topped with thick cream cheese frosting.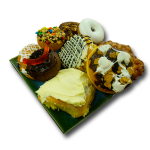 Our signature Doomsday Donuts are always a sweet end to any meal. Please ask which selections are available; click here for more info.