Doomsday Donuts
Dawn, Doomsday Donut baker extraordinaire, whips up batches of our signature "jewels" fresh each morning using only the best ingredients available.
Our incredible Doomsday Donuts (they really are!) are a great addition to office meetings, birthday parties and any other celebration where you really want to shine. A Full tray of 13 is $18.50 and our mini tray of 6 selections is $9.25. Please call in advance if ordering more than 3 dozen: (920) 896-0311.

Cobblestones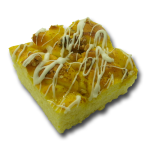 This is what you would get if a fritter and a Danish had a baby. A yeast-raised dough is used and they are baked rather than fried. We offer a variety of fruit flavors with or without a cream cheese filling. A huge hit is Mama's Turtle Cobblestone – chocolate and vanilla dough topped with chocolate and caramel sauces and chopped pecans.
Note!
The donuts listed above vary by fillings and toppings each day. Please inquire for "Today's Selections." Go ahead – call us! We're waiting for your call at (920) 896-0311.