Palenque Catering
At Palenque Coffee House WE MEAN BUSINESS! When you have a breakfast or lunch business meeting, treat your group right by ordering Palenque Coffee House box lunches or donuts to go!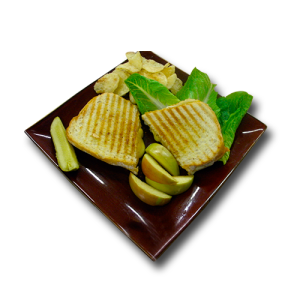 Just $6 each gets you your choice of either:
Our Triple Totem Panini, oozing with mozzarella, provolone and cheddar cheese, topped with cracked black pepper and a hint of basil, or
The Architect, our House Special, which is a panini stuffed with ham, turkey, pepperoni, mozzarella, and roasted red pepper sauce.
Plus, every box lunch includes chips, pickle and apple sauce.
Oh, and dessert? Glad you asked! Although you may be tempted to eat it first, your $6 Palenque Box Lunch includes one of our homemade Doomsday brand frosted cake donuts.
Order 4 or more Box Lunches by 10AM and delivery in Ripon is FREE! (Otherwise a $3 fee applies)
Call 920-896-0311 – We're open 7 days a week 7AM-5PM.
Breakfast Catering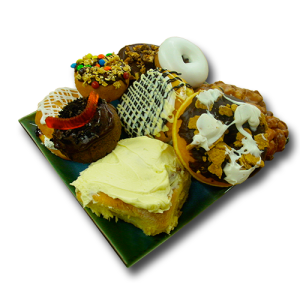 Whether breakfast, mid-morning or afternoon, sweeten up your meetings with a dozen (or 2) of our Doomsday brand signature donuts. These rare, one-of-a-kind Mayan "Jewels" are baked fresh in-house daily.
Bakers Dozen (13) $18.50; delivery in Ripon is FREE! All Doomsday Donuts Are One Of a Kind! (Just like you)
Call 920-896-0311 – We're open 7 days a week 7AM-5PM.