Palenque Coffee Beans
Savor the worldwide grandeur derived from coffee that is hand-selected, ground and brewed to perfection. And right here in Ripon! Welcome to the best coffee anywhere, Palenque Coffee. Here are our varieties you'll find brewing daily at our store.
Coffee beans are as individual as a fingerprint and that can be intimidating when all you desire is a "good cup of coffee." Add the roasting process and you have quite an education to tackle.
At Palenque Coffee House, our desire is to teach, inform and serve up a variety of coffees for you to sample. After all the taste is what you are after! We offer the largest selection of single origin and specialty coffee in our area. At Palenque we feature several popular brewing methods custom tailored to each individual's personal preference. We have vacuum pot, French press, pour over, and the Clover Coffee Brewer, and we'd love to prepare one for you. Stop in. The coffees on. We're waiting for you!
Coffee Beans To Go
Below is our selection of coffee beans available for to-go purchase, for brewing at home. Please note that availability varies; for more information on current inventory, please contact us at (920) 896-0311.
Light Roasts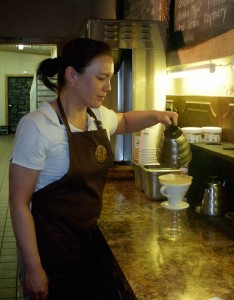 Our lightest roast. A bean's acidity is unadulterated and at the forefront of the cup. The natural, subtler nuance is most perceptible, and the coffee's body and sweetness have yet to be maximized.
Ethiopia Washed Yirgacheffe, Harfusa Cooperative A performer from beginning to end. Sprite soda, cream, and a hint of clove in the nose. Clean, snappy, and refreshing, rich with veins of lime, green tea, and macaroon. A voluptuous, milky body that ends slowly and pronounced. Details
Rwanda "Cafe Femenino" Almond and clove in the nose. Slippery mouth feel. A medium acidity that cuts through accents of green vegetables, cornbread, and pineapple. Modest, winey finish. Details
Tanzanian Peaberry This is a light roast grown on the slopes of Mount Kilimanjaro. With a bright and berry-like flavor, this unique bean is sure to delight. Details
Organic Honduras El Naranjo Pleasantly sweet throughout, cherry, honey, sugar cane, strawberry, hint of peach. Details
Medium Roasts
Slightly touching the "second crack," less acidity and more sweetness is apparent as its natural sugars begin to caramelize.
Guatemala Cafe Palmira Huehuetenango Beautiful and subtle, with soft aromas of banana cream pie and tropical fruits. Its gentile acidity draws attention to more delicate wisps of banana chips, white grape juice and butterscotch. Finishes silky and suspenseful. Details
Organic Hawaiian Kona From the slopes of Mauna Loa, these beans are full-bodied, smooth, and balanced in flavor. Kona 'Volcanic Estate' has a light acidity that is complimented by slight chocolate and fruit undertones. Details
Jamaican Blue Mountain One of the most sought after coffees in the world. Balanced, rich, delicate, and mild. Never dark roasted, the delicate flavors are preserved by nurturing the roast to the point of just touching the 2nd crack. Details
Fair Trade Organic Nicaragua Sabor de Segovia Great body, clean flavor and balance. Deep sweetness with a hint of chocolate orange. They are the highest grown coffee among the Centrals and have less acidity. Details
Yemen Mocha Grown in the high elevations of the Yemeni Mountain Range, these beans are one of the world's oldest, cultivated coffees. Arabian Mocca is distinguished by its richness in body with its chocolaty, fruit-like undertones mingled with an earthy and pungent aroma. Details
Brazil Sul De Minas Aroma aplenty, including rum raisin ice cream, rhubarb, strawberry shortcake and sugarcane. A wholesome and round brew with depth, pronounced by Oreo cookie and oak accents dancing around a very slick body and unassuming acidity. Leaves a dough-like presence in the wake of a semi-sweet finish. Details
Congo Kivu Lubero Rich, sweet, grape, raisin. Details
Organic Ethiopian Harrar Ethiopian Harrar is fruity with flowery aromas ranging from exotic tea leaves to fresh pungent chocolate spice. Harrar can be a highly variable coffee, from year-to-year and from lot-to-lot. Some years are more tea-like and some are more earthy and heavy. Hararr's are wild and natural coffees. Details
Organic Bolivia- Lllampu Region A patient cup, ideal for thoughtful sipping. Toasted grain and salted butter appear in the nose. A strong, citric acidity rests atop its chewy, creamy body. A rush of sweetness keeps pushing forward all the way until its dryish, peanut-butter cup completion. Details
Brazil Coopervitae Medium Roast coffee from Brazil. Details
Mexico Chiapas, El Triunfo Biosphere Reserve Coffee from Mexico. Details
Organic Flores – Bajawa Powerful, yet comforting, beginning with a nose of anise, chocolate bonbons, and bubblegum. Reminiscent in both body and flavor of an oatmeal stout infused with toasted marshmallow. Finishes malty and everlasting. Details
Panama Boquete Panamanian coffees are under appreciated. The coffees from the Boquete region of Panama are subtly bright, well balanced, with fruit, and dark cocoa tones. Details
Java Estate Java is famous for its smooth body yet has a remarkable brightness which balances the cup. You will notice the deep feel, with just a hint earthiness in the cup, and a striking bittersweet chocolate finish. At a medium dark roast it is very compelling. Details
Kenya Muiri Estate Quite the complex cup, all based around a prominent and lively brightness. Aromas of brown sugar and nectarine grow stronger as it cools. Essence of Raisin Bran and soft citrus cut through a light, slightly milky body. That bright acidity carries through the finish alongside a pie crust sweetness. Details
India Malabar This Indian coffee is uniquely processed by the elements of nature creating a taste that is distinct to all other Indian coffees. Medium-roasted, this top-grade coffee displays a light body with moderate acidity. It has mellow and soft flavors of earthen tones to give it a rich smoothness and a delightful, heavy body. Details
Maui Caturra For a smooth, gentle flavor with slightly spicy undertones, try the Maui Yellow Caturra. Cultivated and harvested on the island of Maui, this varietal of Caturra offers a light body of medium-roasted coffee with a tangy cinnamon-allspice flavor. Details
Sulawesi Sulawesi Gourmet Coffee is a full-bodied, medium-light roasted coffee. Flavors of cinnamon and spice accentuate the aftertaste, coupled with the light acidity and smoothness of body. Details
Dark Plus Roasts
Ethiopia Sidamo Natural Process, Oromia Cooperative Heavy, hearty, and wholesome. Starts with a nose of bright citrus and red velvet cake. Its thick body alludes to sweet, dark fruits and rich caramel, then finishes briskly with memories of whipped cream. Details
Dark Roasts
The beans begin to break down at this degree as the "second crack" continues. Acidity has muted, while sweetness builds and the cup becomes fuller bodied.
Nicaragua Sabor de Segovia Classic and comforting. A heavy-but-clean body, with a pronounced undertone of vanilla soft-serve ice cream. All- spice and garden peas in nose. Departs with lingering, honey-roasted peanut finish. Details
Bali Kintamani Natural Process Playful nose of Shock Tarts, raspberry seeds, and angel food cake. An abrupt beginning — with a tart acidity and crisp, sour cranberry –that soon levels out into a fudgy and herbaceous base. Soft and voluptuous finish, blending tropical fruits with a refreshing earthiness. Details
Organic French Roast The term French Roast is kind of a catch all term in our coffee culture. While most agree it is a dark roast, the actual coffee beans used in a French roast is paramount. Some roasters use a low grade bean and hope the dark roast hides its imperfections. Details
Decafs
Organic Fair Trade Decaf Peru, Water Processed A deeply rich and layered brew, playfully bouncing between mesquite barbecue, malted barley, and macaroon. Smooth-bodied and hearty, finishing very sweet and slightly salty. All this featuring an aroma of lemon tart. Details
Natural Columbian Decaf Colombian coffees are well balanced, medium bodied, and bright. Details
Natural Sumatran Decaf Sumatran coffees capture the wild jungle essence of this tropical Indonesian island. Details
Smooth Jaguar Decaf Our signature secret blend! The subtle sweetness of the dark roasted South American bean accents the funky groove of the Indonesian. Sweet acidity is well balanced with the heavy body. Details
Decaf Mexico – Yeni Navan A delicate nose of white grape juice and tiramisu, translating later in the cup as chardonnay and Nilla Wafers. Brothy body with a rich maltiness, finishing dry and savory. Details
Decaf Costa Rica Cultivated and wet-processed in the region of Tarrazu, these Caturra varietals are certified SHB (strictly hard bean), which indicates these coffee beans are grown at altitudes above 3,900 feet. Light-roasted, Costa Rica Reserve beans brew into a light-bodied coffee that is rich in chocolaty-caramel flavors. This decaffeinated coffee produces a cup that is winy with high acidity and a sharp finish. Details
Decaf Guatemala Antigua We are sure that you are going to enjoy Decaf Guatemala Antigua Coffee. Guatemala's own unique smoky flavor is well balanced with the "spicy twist" you may detect in this coffee. You may also notice this medium roast coffee gently laced with a hint of chocolaty aroma. It stands to please any coffee lover! Details
Espresso
Balls of the Bull Espresso Blend An explosion of sweetness in your mouth. Huge body with molasses, vanilla and citrus. A delightful experience without the typical light roast espresso bitterness. It really has "the whole package." Details
Espresso Italiano Decaf Sweet and smoky, with a rich crema. Details
Blends
Lord Pakal's Blend A selection of the finest beans in Central America. Bright and crisp, with hints of citrus and spice. The territories of Lord Pakal united again at Palenque under this unique blend! Details
Organic Smooth Jaguar Blend The subtle sweetness of the dark roasted South American bean accents the bite of the Indonesian. Sweet acidity is well balanced with the heavy body. Details