Cafe~Tasse (Extra Noir)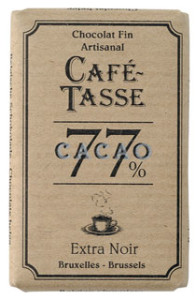 Price: $6.50
Café-tasse has drawn its inspiration from two sources,
a Belgian dedication to create the perfect chocolate and
the desire to introduce the European tradition of enjoying
chocolate while sipping coffee , an exquisite combination,
wrapped in innovative ways. Café-tasse Chocolates have
become a must for the true expresso lover and its distinctive and
natural looking packaging have given Café-tasse its
own place in the chocolate market.
The dull crackling sound when you break a Cafe-Tasse tablette,
the intense flavour of the first piece you bite into, the desire to
take another bite to relish – all this is part of the pleasure when you
eat a Cafe-Tasse tablette. Cafe-Tasse tablettes are savored slowly,
like a call to meditation. Their particular aromas make them truly delectable.
This is gourmet chocolate par excellence, with no pretension or posturing.