Dark Chocolate Sea Salt Almond Bar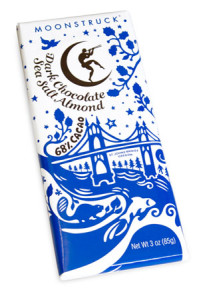 Price: $4.25
It's only natural to desire that which is irresistible.
Namely Moonstruck Dark Chocolate Sea Salt Almond.
Follow your dark thoughts. They know where they're going.
Give in to your cravings. Dark Chocolate (unsweetened
chocolate, sugar, cocoa butter, soy lecithin [an emulsifier], vanilla),
Almonds (roasted in vegetable oil [sunflower, coconut, and/or canola oil], salt),
Pacific Blue Sea Salt.