Dark Chocolate Tumbled Ice Wine Raisins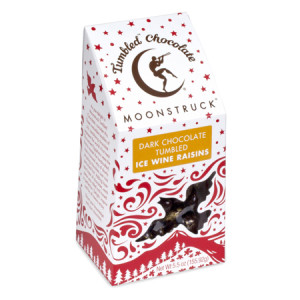 Price: $4.95
These rich, tantalizing baubles of chocolate represent the world's first treat.
Following a time-honored tradition, Moonstruck handcrafts each irresistible
piece by layering delicious Moonstruck chocolate over golden raisins soaked
in ice wine.  Dark Chocolate (cocoa mass, sugar, cocoa butter, soy lecithin
[an emulsifier], vanilla), Golden Raisin (raisin, sunflower oil, sulphur dioxide),
Sugar, Clarified Butter (milk fat), Modified Starch and Sucrose, Powdered
Sugar, Natural Ice Wine Flavor (partially hydrogenated soybean oil, natural
flavor), Confectioner's Glaze, Ice Wine, Gold Powder (artificial colors Lakes
& Dyes of FD & C Blue #1, Blue #2, Red #3, Yellow #5, Yellow #6, Red #40
and/or Titanium Dioxide).