Firecracker Bar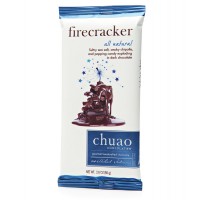 Price: $4.25
Sultry sea salt, smoky chipotle, and popping candy exploding in dark chocolate.
(1) 80 g/ 2.8 oz bar. Contains milk lactose, soy.
Handcrafted with ethically sourced cacao, all natural,
and gluten free ingredients. Manufactured in a facility
that uses tree nuts, milk, and wheat in other products.
Silky dark chocolate sizzles with smoky chipotle and a
sprinkling of sea salt until… SURPRISE! Popping candy
explodes and starts a party in your mouth.
The Firecracker bar. Welcome to the wild side of chocolate.
reviews
Meg<3Pie wrote: 5 STAR CHOCOLATE BAR

Best chocolate bar I've ever had. LOVE LOVE LOVE. Chipotle and dark chocolate are wonderful, the pop rocks add a fun and exciting twist! 😉
Theresa wrote: just a party in ur mouth!
I would never think this product was good but its the best flavors and textures all together in a awesome package..it just maks ur mouth jusmp and sing hallll-laaa-luuu—AAAAA!! Lol. Its fun and yummy!

Krista wrote: Whooo Hooo
Oh How I Love this Bar! Stumbled upon it by accident and can't stop smiling! Thank you for this amazing inspiration! whoo hooo
Kat wrote: A foodies delight
This is my favorite Chocolate Bar, the sweet burning sultry taste with that surprising kick, nothing quite like it, and the perfect way to top off a date night with your special someone in front of a fireplace.
Sharon wrote: Whatever made you think this combination would work?
You're a genius!!! Don't you EVER stop making the firecracker bar.
Andi wrote: Different, Amazing & Gourmet Chocolate
I live in CA, very close to where this company is based and I am obsessed with the Firecracker bar! My nearest Whole Foods can't keep enough of it in stock, good thing I'm close to a Chuao Store too! I've tried almost all of the bars and several of the truffles, all of it very good and definitely a more upscale chocolate. The Firecracker is just plain amazing, delicious dark chocolate with just enough sweetness mixed with the perfect amount of spice to give it an edge mixed with pop rock explosions. Really great taste and sensation! Hands down best chocolate bar I've ever had!
Omur wrote: Awesomely awesome..
A delicious surprise, feeling like a little kid again. It stimulates all the senses on your tongue: sweet, salty, hot all together
Lisa wrote: Pair with wine
An amazing pairing with a good Merlot! Who would've thought. Had these at a wine tasting the other night and was pleasantly surprised. An excellent chocolate.
Hali wrote: A flash bang of a bar!
The taste is rich and dark with a note of salt and one hell of a chipotle bite to finish.
And then the pop rocks! Imaginative chocolate that will make you want to eat the whole brick. Candy hasn't been this fun since you were a sugar-sticky kid.
Lori wrote: Unexpected
What fun! Chocolate with surprises. Pairs wonderfully with a spicy red wine.
Amyjo wrote: Popping Good Chocolate!
The most amazing surprise your mouth will experience since you where a child! My new favorite chocolate bar of all time!
Grinner wrote: Firecracker
The Firecracker is a wonderful experience in chocolate! The only critique I have is that it could use a bit more salt to enhance the flavor.
Cristina wrote: Party in my mouth
amazing! it was like a crazy blast of flavours on my taste buds! loved it