Maple Bacon Bar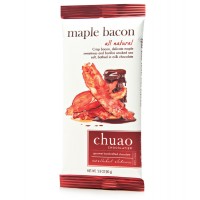 Price: $4.25
Crisp bites of bacon drizzled with delicate
maple sweetness and a sprinkle of bonfire
smoked sea salt, bathed in milk chocolate.
(1) 80 g/ 2.8 oz bar. Contains milk, soy.
Handcrafted with ethically sourced cacao,
all natural, and gluten free ingredients.
Manufactured in a facility that uses tree nuts,
milk, and wheat in other products.
The Experience
Crispy bacon goodness, a splash of sweet maple
syrup and a bit of bonfire smoked sea salt.
Maple Bacon proves once and for all,
that absolutely everything is better with bacon.
reviews
Luvumre wrote: Disappointed

Sorry folks. I don't mean to be the party-pooper. My experience was not special. I am actually very disappointed. I imagined and salivated, anticipating the taste of crispy bacon and maple, embraced with smoked sea salt, in a rich smooth milk chocolate. NOT! I tasted the sea salt, though not very smokey. I FELT small crunchies, but could not distinguish the taste as bacon. The chocolate itself was O.K., but I have for sure had better and smoother. The reason I'm writing this review is because for $5+ (at Bed Bath and Beyond) for a candy bar, I expected a "maple bacon smokey sea salt" party in my mouth. I truly wish I could get my money back. Maybe it the bacon had been bigger…. really crisp… I don't know. :-(/
Melissa wrote: Wow
            This is not a combination that I would have originally thought to try but wow! I would only change one thing,  MORE BACON!!!
Elise wrote: Perfect Balance
I'd like to think myself a connoisseur of both chocolate and bacon. This bar is by FAR the best bacon chocolate that I've had. Other bars I've had were overpowered by the bacon/salt, but this bar has such a perfect balance- that's is practically a religious experience. I suppose my only complaint is the price. If I could afford it, I would eat these bars all the time.
Angela wrote: Maple Bacon I am addicted to the Maple Bacon bar! It is AMAZING!
Kathy wrote: World class flavor.
The taste is amazing!! You truly get the flavors of the bacon,maple and sea salt. I travel to France weekly and I am pleased to know that the essence of France has come to join the coastal town of Southern California. Growing up in Carlsbad it is nice that two of my favorite places join to make a fantastic taste sensation!! I see the chocolates for sale at Lindberg field and asked the clerk..(having not had a taste yet) "Do these sell?" Oh yes I was told..and not just a bar at a time…many times up to ten at a time. I know then I had to try one….sold!!! I too will be buying more…hard to give as a gift unless do it right away..the temptation to eat them all is great!!
Thank you for a wonderfully delightful treat.
Tricia wrote: Maple bacon goodness
This is by far the best chocolate/bacon combo I have ever tried! Mixed perfectly with my hazelnut brown craft beer! 🙂 HUGE FAN! I highly recommend!
Dana wrote: Heavenly!
Perfectly complimentary ingredients, wonderful chocolate. Hands down, the best bacon bar I've ever eaten!
Marc wrote: You must try it!
I've had other bacon chocolate bars and they were… not good, to be kind. But this. THIS. This is pure awesomeness!
Jonathan wrote: Best chocolate ever
this is awesome chocolate.