Milk Chocolate Sea Salt Toffee Bar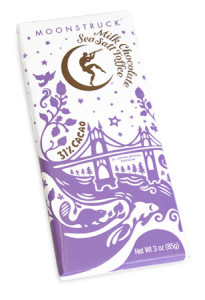 Price: $4.25
One of our most exotic and complex chocolate bars.
We add cinnamon and crushed roasted almonds to our
creamy milk chocolate,resulting in a bar that harkens
back to the chocolate of the ancient Maya civilization.
Milk Chocolate (sugar, cocoa butter, dry whole milk,
unsweetened chocolate, soy lecithin [an emulsifier], vanilla),
Almonds (roasted in vegetable oil [peanut, sunflower, coconut,
and/or canola oil], salt), English Toffee (sugar, corn syrup,
fractionated palm oil, evaporated milk [milk dipotassium phosphate,
carrageenam, vitamin D3], butter [cream], salt, almonds, natural flavors,
soy lecithin), Pacific Blue Sea Salt.