Naga Exsotic Chocolate bar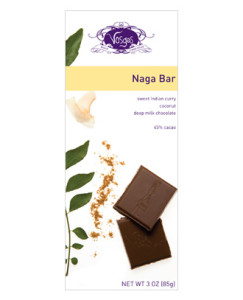 Price: $6.95
Breathe…see…smell…snap…bite…sense…guided tasting
notes inside.
Named and inspired by the tribes of Northeast India,
taste the flavors of deep milk chocolate, sweet Indian curry,
nutty coconut and an overall sensation of warm, rounded spice.
Naga parfum includes:
sweet Indian curry + coconut + 45% cacao deep milk chocolate
Net weight: 3oz.
Consume within 15 months
GLUTEN-FREE
Manufactured in a facility that handles tree nuts, peanuts,
sesame seeds, milk, wheat and soy.