Orange A Go Go Bar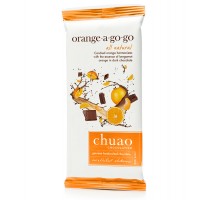 Price : $4.25
Candied orange harmonizes with the essence
of orange bergamot in dark chocolate.
Non dairy, vegan friendly. (1) 80 g/ 2.8 oz bar. Contains soy.
Handcrafted with ethically sourced cacao, all natural,
and gluten free ingredients.  Manufactured in a facility that
uses tree nuts, milk, and wheat in other products.
The experience
Rich dark chocolate grooves with zesty bits of candied orange and
soulful orange bergamot. Orange- A-Go-Go is a classic tune remixed
with a fun new beat, sure to make the top of your playlist.