Potato Chip Bar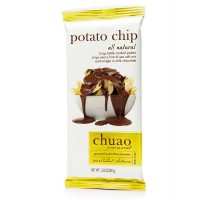 Price: $4.25
Crisp kettle cooked potato chips and a hint of sea salt,
mix and mingle in milk chocolate.
(1) 80 g/ 2.8 oz bar. Contains milk, soy.
Handcrafted with ethically sourced cacao,
all natural, and gluten free ingredients.
Manufactured in a facility that uses tree nuts,
milk, and wheat in other products.
The Experience
Creamy milk chocolate, a sprinkle of sea salt and that irresistible
potato chip crunch. The Potato Chip bar combines two of the most
crave-able creations on the planet for total taste bud domination.
reviews
Mystie wrote: Love it!

I got this as a sampler on birchbox.com and I wish it had come with more. This is nothing like I've ever had before. I will definitely be buying some for when I have a craving.
Lo wrote: Fantastic
Love this bar! Perfect mix of sweet and salty flavors. Definitely my favorite guilty pleasure!