Spicy Maya Bar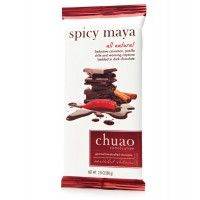 Price: $4.25
Seductive cinnamon, pasilla chile and warming
cayenne bedded in dark chocolate.
Non dairy, vegan friendly. (1) 80 g/ 2.8 oz bar. Contains soy.
Handcrafted with ethically sourced cacao, all natural,
and gluten free ingredients. Manufactured in a facility
that uses tree nuts, milk, and wheat in other products.
reviews
Walt wrote: Fantastic, but Disappointed

One of the absolute best chocolate bars on the market … Totally disappointed when Chuao decided to eliminate the "Sugar Free" from their product line-up. A TOTAL MISTAKE !! The fastest growth area for chocolates is in the Sugar Free area. It was not a "good seller" for Chuao. Most likely due to a poor marketing effort. I would always find them in a "back corner" of the stores, and often the salespeople would hardly know anything about them. Hope they reconsider their decision and decide to bring back the Sugar Free chocolates; provided, they put forth a marketing effort that makes their Suger Free products one of their "Best Sellers".
Susan wrote: Best chocolate I think I have ever had…
The Spicy Maya Bar was my first taste of Chuao and I intend to get back out there and buy more of this…the absolutely best dark chocolate bar of any kind that I have had in perhaps my entire life. I buy and receive chocolates often and for some reason, upon the first inhale of cocao before even taking my first bite, I knew I would be tasting the most luxurious dark chocolate bar ever. And I was 100% right. Congratulations to the Chef Michael for following his dreams to create such a magnificent chocolate offering made with beyond a well tested recipe to create the very best! I am in chocolate heaven. You have perfected what chocolate should look, smell and taste like at least for me. Thank you. Susan
PB wrote: Best Mayan spiced chocolate yet!
When it comes to spiced chocolate the spice is often over-assertive. In this case it is a wonderfully balanced bar that offers a different nuance each second until it has dissapeared from your toungue. I thouroughly enjoyed it and wished it was inexpensive enough to have it more often (but I guess a wait inbetween bars probably helps it to remain fresh on the tastebuds).
Natalie wrote: Masterpiece of Flavor
Normally, I don't write reviews online. However, I ***LOVE*** this chocolate bar! It starts of sweet and then the spice builds slowly on the back of your tongue and throat until it explodes in a tingle of spiciness that just perfectly matches the sweetness of the chocolate. It's not too spicy so it's not overpowering, and it really is a surprise when you first taste the spice. It doesn't keep getting hotter either like spicy food where you can't eat it after a few bites. I have eaten the whole bar at one time, and it's not like what I expected. You don't have to like spicy food to like this chocolate. I had never had chili and chocolate together, and I tried a few other bars since I tried this bar, but I always come back to this bar. It's the best! If you've never tried this flavor combination, and are curious about it, then I would try this chocolate bar! Nothing beats it, and now I am spoiled. All other chocolate is just so ordinary now